Reconnect In Your Business — Lose the Cape Podcast Feature
I recently was interviewed by Lose the Cape — a podcast all about celebrating, empowering, and encouraging the woman behind the kids, marriage and business. It was quite the interesting experience filled with cow-chasing, children interrupting, and some strange drilling in the background... but that didn't stop us from digging into what Bosscation is all about!
We cover a ton of topics, including the launch of "Bosscation" to come this fall!
(On the podcast I shared that I would be launching August 30th, but I realized after recording that I needed to beta test more before launching. I want to ensure that the strategic planning guides are as impactful as possible. Interested in beta testing? Click here!)
We also chat about:
How I balance three businesses (Legacy Loft and Elevate & Cultivate)

My "aha" moment of coming up with Bosscation

Why you need to get out of the house and away from the daily to reconnect in your business

The benefits of getting away from the distractions of work

"Create mode" vs "edit mode" when it comes to planning and content creation

Keeping you in tune with your core values in your business

Calculating a budget of time in addition to a budget of expenses

My tips for those people who are classic "non-implementers"

How intense the workbooks are – they're more like a course on paper

How I'm using Instagram Stories for marketing
Listen to the whole episode below or visit Lose the Cape!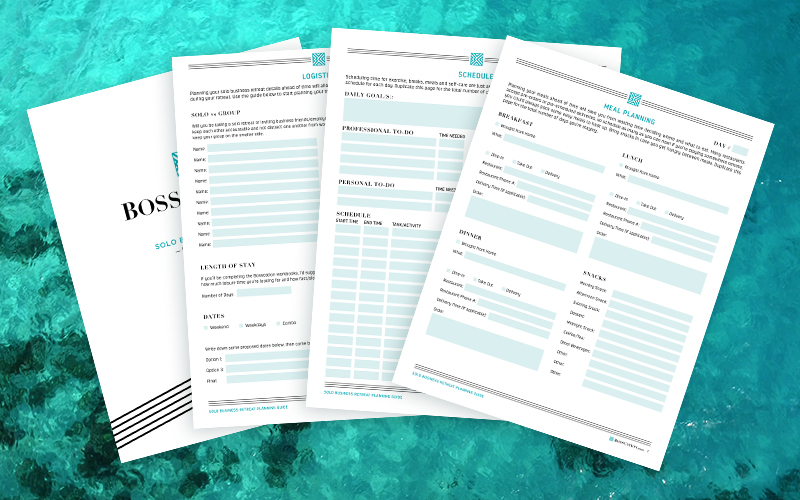 Solo Business Retreat Planning Guide
Entrepreneurs, take back your business with a solo business retreat. Our planning guide will help you maximize your time, since you'll plan out your goals and activities ahead of time. Leave for your retreat prepared with your meals planned out, a budget, and a daily schedule. Whether you're heading to a beach bungalow or taking your solo retreat at home, this planning guide will set you up for success.