How to Schedule Your Week as a Solopreneur
Raise your hand if you've ever made it to Friday and thought, "what did I even get done this week?" You're so busy, but are you being productive?
Without being intentional with your time, it's hard to conquer your to-do list and prioritize your tasks.
Here are some tips on how to schedule your time as a solopreneur (or scroll down for the notes).
Step 1: Evaluation
You need to know exactly where your time is going before you can create a working schedule. Find a time-tracking app like Toggl to document what you're working on every day for a week or two. That will not only keep you accountable, but will also give you a better picture on what tasks are sucking up all of your time, and which ones are providing a return on your [time] investment.
Step 2: 4D Strategy
Take your list of everything you work on throughout the week, and complete a 4D evaluation: Delete, Defer, Delegate, Do.
Delete — what can you cut out or cut in half? What tasks aren't providing a return on investment?
Defer — what could you put off until next week, month, quarter, or year?
Delegate — what do you dread doing, aren't good at, or are slow at that someone else could do instead? Think of tasks that cause a bottleneck in your business or those that just aren't working.
Do — the things that are left can now be scheduled.
Step 3: Schedule it in
If it's not on your calendar, it doesn't get done. Making time for your business tasks is so critical, so you must pencil it in. Trying to squeeze in your marketing, finances and business planning between client projects often means you'll never get around to them.
Here are a few suggestions as to how you could schedule your time:
A/B Schedule: Do only client work on your A weeks, and only business work on your B weeks
1 Day a Week: Pick one day a week (preferably the same day each week) to work on your business. Let your clients and customers know that you won't be available to them on that day
Time Each Morning: Start your day with 30-90 minutes of business work before getting into emails or client projects
One other suggestion, to keep your business ahead of the game, is to schedule at least 30-minutes a day dedicated to a project that's at least 30-days away. That way, you won't find yourself procrastinating or rushing to finish things at the last minute, and can break it up into manageable pieces.
Step 4: Take a Bosscation
Finding time to step away from the computer, client work, social media and emails can open your mind to plan ahead and refresh. On the computer, your mind goes into "edit" mode since you can write, read, erase over and over again. You interrupt your own thinking. With pen and paper, your mind goes into "create" mode — especially when you're away from your normal work environment — so you can freely brainstorm and let your thoughts flow. Getting away from your daily grind can help you to see the big picture, and plan things out strategically, rather than on a whim.
So tell me, how do YOU schedule your week and make time for working on your business?
Need some help knowing what to work on during your "business" hours? Grab my free checklist of 80 tasks you should be working on throughout the year to ensure success.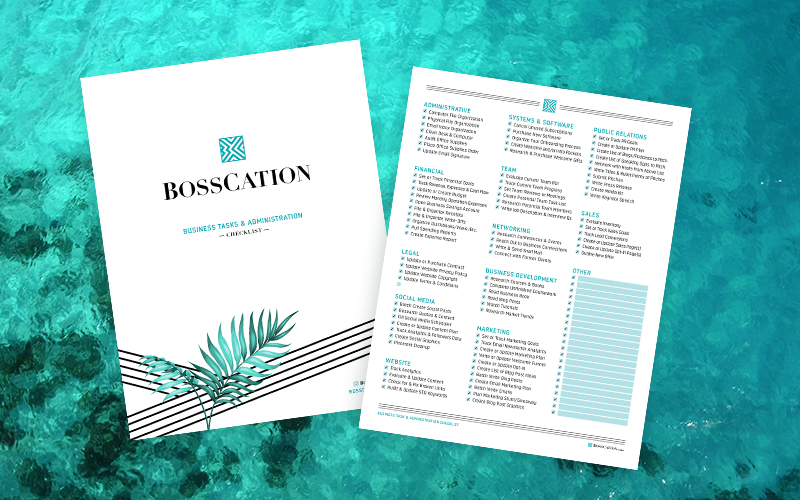 80 tasks you shouldn't neglect to ensure long-term success!